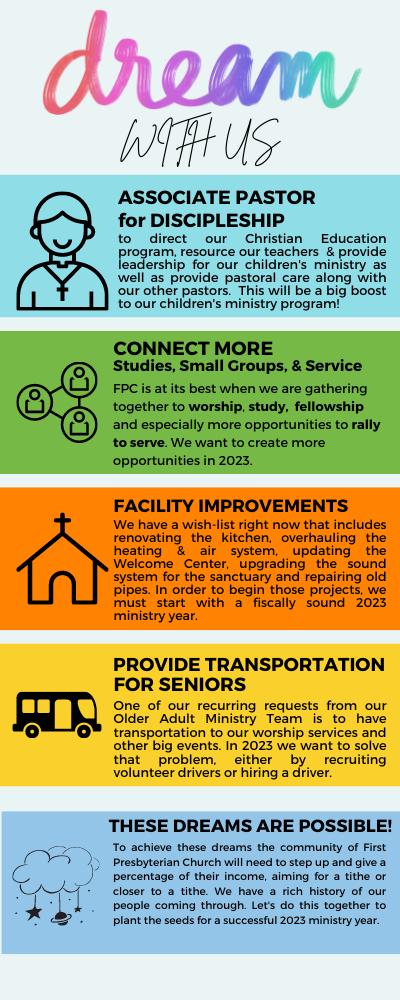 These dreams (and more) are possible!

But in order to complete these goals, it is going to require a team effort. A successful fall stewardship campaign will give us the foundation to begin to do more than just survive in a post-pandemic world. It would give us the stability to add a few of our dreams and begin work on the rest. As individuals, our pledges are part of our discipleship journey as we learn to lean more heavily on God. When we pledge together, the combined faithfulness of our congregation makes anything possible!

This year's fall stewardship theme is "Devoted to Generosity." Being devoted to generosity is more than a theme, though. It is a way of life. When one devotes their life to the Discipleship of Jesus, becoming generous is part of the journey. Generosity is a spiritual practice that equips us to depend on God more than stuff. Generosity also equips us to look at the world around us and ask the question, "How might I be of service to the world with what God has invested in me?"

As a community of faith, individual acts of generosity begin to multiply to allow us to accomplish more together than we could on our own. If every member of the congregation were to give a full tithe (10%) of their income, the sky would be the absolute limit to what we could do! We are aware that we are all on a path, and many of us are not to a "tithe" level giving yet. By dedicating ourselves to getting closer to a tithe each year, we are able to grow in our generosity and grow in our faith. When we commit ourselves together in support of the ministry of FPC by giving of our tithes and offerings, our dreams come alive!

PLEASE SUPPORT FIRST PRESBYTERIAN CHURCH BY PLEDGING A PERCENTAGE OF
YOUR MONTHLY INCOME TO THE MINISTRY AND MISSION OF OUR CONGREGATION.