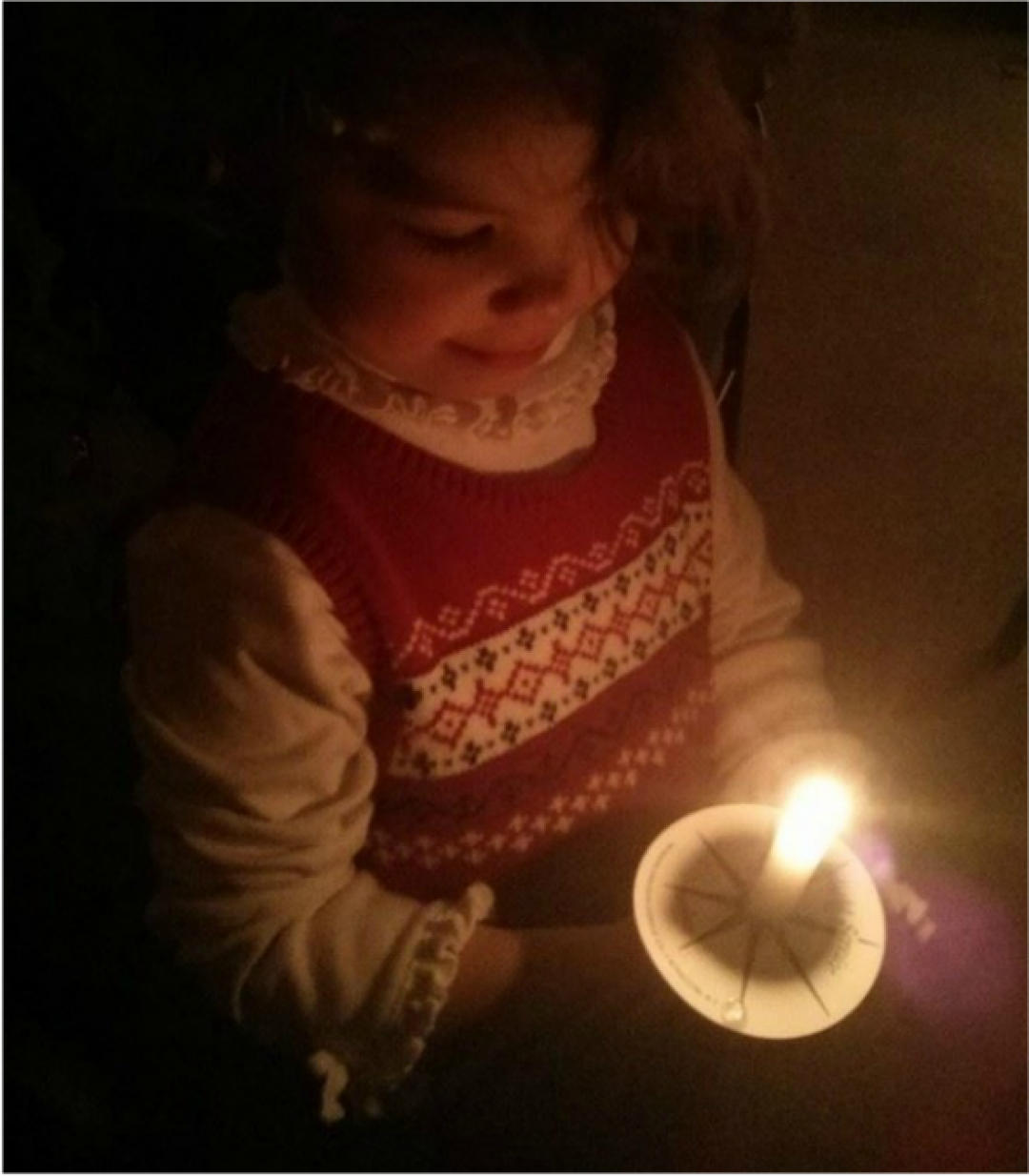 Christmas is coming. All is merry and bright (and a little bit maddening). If you are like me, you are already feeling behind. The house is a mess. The decorations are still in the attic. And I have no idea where to find the Advent calendar. It stayed out until Easter last year...
Be not afraid dear ones. Jesus is coming. Here are some practices to center you and your family around the love and light of Christmas:
Use the

Faith 5 to start a ritual that will continue to bless your family into the new year and many years to come!

1) SHARE your highs and lows.

2) READ the Bible. I recommend

Deep Blue Storybook Bible for its awesome notes for parents and great questions at the end of every story. But you can also read a Christmas story or Advent devotion.

3) TALK

about the story. For young kids, one question or wondering statement is enough. "I wonder if Mary was afraid..."

4) PRAY

about the highs and lows of the day or say a memorized prayer.

5) BLESS

- we like to say, "God loves you and so do I" and "sleep well beloved child of God." A friend says, "I love you almost as much as God." You may even use, "I love you to the moon and back." The important part is that everyone gets a blessing, even the grown-ups!
In our house, we often share around the dinner table and rest before bed. Honestly, we skip read and talk when we're pressed for bedtime, but we never ever skip the prayer and blessing. To bless your children, and then receive that blessing back is deeply holy.

If you do nothing else this Advent, begin a family blessing.
This is my top recommendation because it's simple but extremely powerful. If you miss a day (or 12) that's okay! Because you are starting a practice of faith and family that will last a lifetime. As your kids grow, you may leave the storybook Bible behind, the questions will be harder, the "lows" of the day may get lower. But the love and faith and family remain.
Get a copy of Faithful Families for Advent and Christmas for 100 ways to make the season sacred. This gem from Traci Smith is my favorite resource for simple, powerful activities to engage faith with kids. We did the Christmas Eve star walk last year, and it was so lovely!
An Illustrated Advent for Families

is fabulous for all ages, especially if you love to color. It includes 5 weeks of family devotions, coloring sheets, an Advent calendar with activities, and ornaments to print and color. Created by artists, pastors, and parents, this resource has everything you want and it's all excellent.
Instant Advent from Spark House is a great introduction to Advent for preschoolers. There's also a Christmas video and a lot of other faith videos for our littlest ones on the Whirl playlist.
If you're up for something a bit more involved, try a

Jesse tree. This practice offers daily stories and scriptures from throughout the bible to show the wider arc of the
coming of the Messiah. Usually, each day/story has a corresponding ornament to hang on the tree. There are lots of versions, but

-

Flame Creative Kids Ministry Jesse Tree is my top recommendation for you, Busy Family. Mina Munns - artist and priest - has all the ornaments ready to print and color, along with the stories and questions to discuss as you color.
An

Advent calendar

is a great way to count down the days until Christmas. We sent this Advent Calendar from A Sanctified Art home with the families in our congregation. Try this

Acts of Kindness Advent Calendar

for simple, concrete ways to live out your faith.
Light a candle. Breathe. Say, "Jesus is coming." Even if it only happens once or twice this season, it will be Holy. This is a liturgy I wrote last year for families to use that only uses one candle. I love to put a family Advent wreath on the dinner table. It can be a lovely heirloom or just 4-5 candles or lights

from around your house. Light once candle every night the first week (that's now). Two the second week. (You get the picture). Light the 5th candle on Christmas eve and try something like this to make it extra special.
Give yourself a break. You don't have to do it all. Pick the practice that connects with your family and enjoy it! If you miss a day, don't worry.
Jesus is coming.
And that's miracle enough.