OUR STAFF
The staff at First Presbyterian Church
cares deeply about the mission and members of the church
and share a dedication to equipping the congregation to
"Share the Journey & Grow the Faith"
---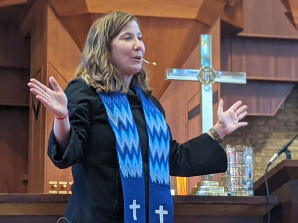 Rev. Karen Ware Jackson, Sr. Co-Pastor
Karen is a dynamic pastor, speaker, consultant, and writer. She and her husband Rob split the Senior Pastor position. Some of the ministries where Karen takes the lead are in Worship direction, multi-generational ministry, creative vision for worship and spirituality, spiritual formation, President of the Board of Ukirk College Ministries and partnership with the ECU Jesse Peele Center in caring for LGTBQ+ students. Karen has been highlighted in Presbyterians Today for her work and is also known for her role with Practical Resources for Churches.
---

Rev. Rob Jackson, Sr. Co-Pastor
Rob is a skilled pastor, a caring spiritual counselor, and community leader. Some of the ministries where Rob takes the pastoral lead include mission, administration, Head of Staff, leadership training and coordination, database direction, stewardship, pre-marital counseling, and ecumenical/ community ministry (serving on several leadership/planning teams for community events and ministries). Rob serves on the New Hope Presbytery Commission on Ministry and on the Transitional Ministry sub-team. He is a certified Prepare/Enrich counseling facilitator, Conflict Transformation Facilitator, Stewards of Children Facilitator, Peace Circle Facilitator, and Transitional Ministry Pastor.
---

Karrie Rushing, Director of Music
Karrie is known far and wide for her skill and passion as a Director of Music! She directs the Chancel Choir, Westminster Chimes, JAM Singers, Cherub Choir, and varied pop-up youth ensembles, and oversees other aspects of the music ministry including concert series, scholarship singers, and volunteer led ensembles. Karrie received the Bachelor of Music in Music Education from East Carolina University and the Master of Music in Choral Conducting from Florida State University. She has a passion for helping both children and adults discover new ways in which they can make music and creating connections to make music accessible to everyone.
Karrie is an active member of American Choral Directors Association (ACDA) and Presbyterian Association of Musicians (PAM). She has served on the Executive Boards of the North Carolina Chapter of ACDA (Music in Worship Repertoire and Resources Chair) and PAM (At-Large Representative) and is currently serving a term as the Co-Director of the 2023 PAM Worship and Music Conference at Montreat.
Contact Karrie Rushing Go to Music Ministry Page
---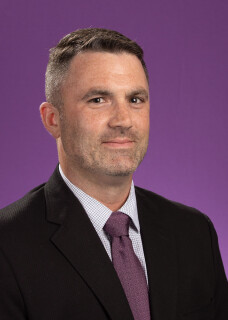 Brad Collier, Organist
The incomparable Brad Collier plays our beautiful Lewtak Organ like a maestro! For many, listening to Brad's music is one of their favorite parts of our worship service. Brad is joyful and talented, and he is always looking out for what is best for FPC.
Brad is also Assistant Director of First Year and Transition Programs in the College of Engineering and Technology at ECU. Brad is an adjunct music instructor for local community colleges, where he teaches online courses in Music Appreciation, The History of Jazz and The History of Rock and Roll.
A native of Goldsboro, NC, Brad attended East Carolina University where he earned a Bachelor and Master of Music Education and a Master of Arts in Adult Education. During his formal musical training, his principal organ instructors were Colin Andrews, Janette Fishell and Andrew Scanlon. He holds the Service Playing Certificate and Colleague Certification from the American Guild of Organists and the North Carolina Community College Teaching Certificate from East Carolina University. Brad is a member of the American Guild of Organists and the Presbyterian Association of Musicians.
In addition to his duties at ECU and First Presbyterian, Brad serves on the Dr. Jesse R Peel LGBTQ Center Advancement Council. He also is a member of the Presbyterian Association of Musicians (PAM) Advancement Council, where he works with PAM members across the country to provide sustainable fundraising for various initiatives.
---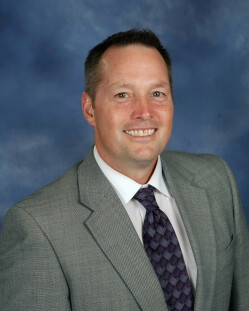 Brian Dilday, Youth Director
Brian is an energetic, loving, lovable, goofy, and connectional youth leader. Youth rave about his leadership and the ways in which he equips them on their spiritual journey. Brian directs Youth Group (Grades 6-12) and Fab Friday (Grades 4-5). Brian also runs our confirmation program and staffs and facilitates our youth council.
---

Janice Gray, Office Administrator
Janice is the organized, thoughtful, compassionate, and essential communications hub of the FPC staff. Janice is the editor of the weekly Focus Flash newsletter and the monthly Focus Newsletter. Janice creates the bulletins for worship, maintains the church calendar, and is the face of the church for members, visitors, vendors, and those who use the FPC facility during the week. Janice manages the membership database and supervises office volunteers. If you have a question, she has the answer or knows who does!
---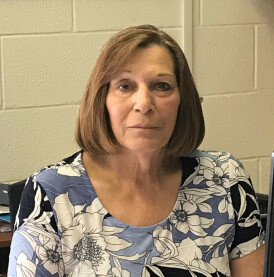 Denise Clooney, Financial Administrator
Denise is a experienced and conscientious financial professional with a degree in accounting. Denise manages the accounts payable and accounts receivable, and she manages our donation processing and our donor database. Additionally, Denise manages payroll, record retention, and processing reports for Administration and Session.
Previous to her position with FPC, Denise has worked as a Controller for Aramark, Director of Finance and Administration for the Kansas
---

Terrence Clemons, Sexton
Terrence is the beloved, motivated, manager of day to day facilities operations. He makes sure everything runs smoothly and looks for ways to equip FPC in ministry every day. Terrence is a key leader on our Mayfest for Community Outreach, serving as Co-Chair for our largest annual project. You can contact Terrence through the FPC Office.
---
Support Staff
We also have an amazing support staff team! Updates coming soon!
Nursery Staff
Choral Scholars
Sound Technicians
Alec Fortune
Charles Humbles