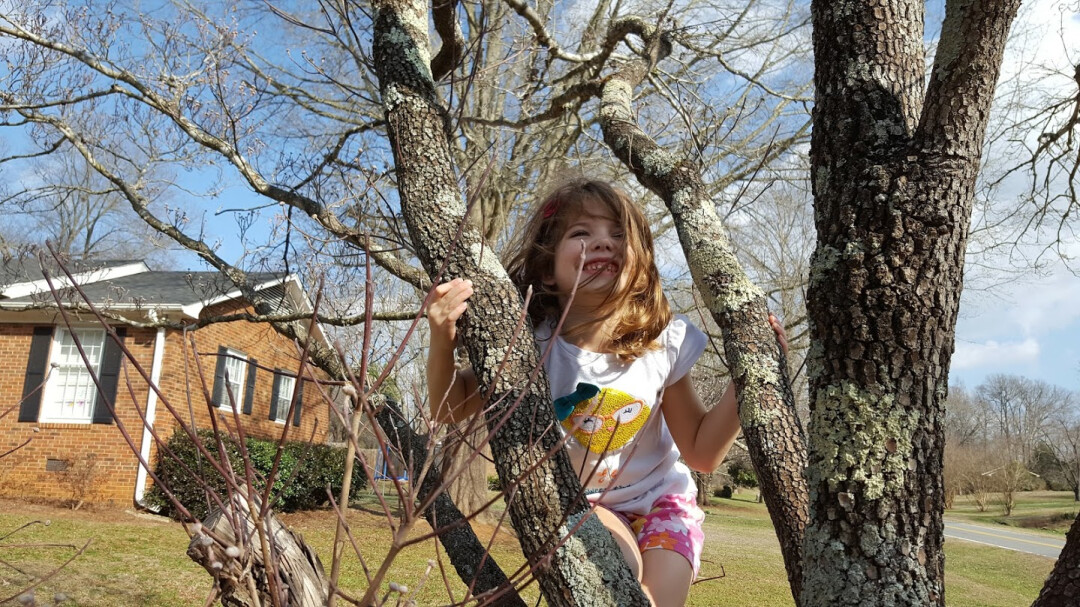 For this reason I bow my knees before the Father, from whom every family in heaven and on earth takes its name. I pray that, according to the riches of his glory, he may grant that you may be strengthened in your inner being with power through his Spirit, and that Christ may dwell in your hearts through faith, as you are being rooted and grounded in love. I pray that you may have the power to comprehend, with all the saints, what is the breadth and length and height and depth, and to know the love of Christ that surpasses knowledge, so that you may be filled with all the fullness of God. Ephesians 3:14-19
"Mommy, I want to climb that tree. Can you help me?"

It was a lovely day in early summer, just before we left Columbus, Ohio and moved to Greensboro. Grace was three years old, and getting more adventurous every day. We were picnicking in a shady spot near a local playground when she asked this simple, lovely question. I took notice of the tree and realized it was the perfect tree for a three-year-old to climb, and that she really didn't need my help. She was big enough, strong enough, smart enough, and brave enough to do it on her own. And I told her that.

For almost half an hour, long after we had packed up our blanket, she climbed up and down and around that tree. She swung from its branches and dropped to the ground. She even spent some time "teaching me" how to climb a tree. It was fabulous! It got me thinking about what makes a good climbing tree and - because I'm a pastor and this is how my brain works – it also reminded me of this verse from Ephesians about being rooted and grounded in God's love. So bear with me as I muse on what you need to climb a tree (and be rooted in God's love):

Low hanging branches (or, "a way in") – You've got to have a way to get started: low branches to grab and pull up, knobs or crooks to step on. You might need a boost from a friend, but without a way in or on, a tree isn't really climbable, and you are left feeling wistful and frustrated. In contrast, with God's love there is always a handhold or a "way in," but if you're struggling, look for a friend. A smile, a hug, a prayer or a conversation with another human being can be a powerful experience of holy love.

High branches (or, "a way up") – Once you're on the tree, you need somewhere to go and with trees somewhere is almost always up. Sometimes the way up isn't clear and requires some trial and error. Sometimes you can see it but the branches might be higher than you'd like or farther apart or more spindly than you'd prefer. Often, it takes some courage to keep going, but a good climbing tree (and a life of faith) gives you a chance to be brave.
Somewhere to sit (or "a place to rest") – Climbing is hard work. You need a comfortable crook to settle in and rest to take stock of how far you've come, to survey the ground beneath your feet and the branches left to climb. One of the great gifts of God's love is sabbath rest – moments and places to dream, read, and pray.

A view (or "perspective") – Whether it's from your resting spot or a perch high atop the canopy, a climbing tree should provide you with something wonderful to see. It might be a vista full of more trees to climb – mountains or rivers or playscapes yet to be enjoyed. It might be a new view of the people you love or the places you have been, now seen from above with a little more distance and (maybe) a little more grace. You might even find a canopy of leaves to observe up close: the way the veins in the leaves mirror the branches of the tree; the slight variations in color, texture, and structure of each leaf, each branch. Perhaps you'll see a carefully con-structed bird's nest just above your head or an ant winding its way along the branch. If we pay attention to the new perspective it gives, a good climbing tree can be a spiritual practice that teaches us something about God, about ourselves, and about the world.
A good climbing tree is just plain fun! It helps you learn that you are strong and brave and smart. It cradles you in its branches not too far above the ground, but far enough to be exciting. It gives you lots of ways to explore your newfound independence and skill so that when you see another tree that's just right for climbing, you'll be ready. In a similar way, when we are rooted and grounded in God's love, we see the world differently – always looking for ways to love and be loved.

Grace still loves climbing trees and finding the perfect little notch to sit and read, surrounded by branches. No matter how old you are, we all need good trees to climb – experiences that require effort and skill, that afford a new perspective and a sense of accomplishment, experiences that bring us joy! As we settle into the last, long, hazy days of summer, take a moment to connect with your child-of-God self. Try something new, or something that you once loved but haven't done in a long time. Whether it's pottery or writing, long walks or a short swim in the neighborhood pool – find the right tree and get climbing!
Karen